Red Hat Fan - battery operated (batteries included)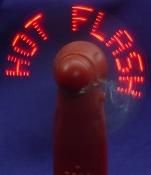 A unique, battery operated RED HAT fan - ready to cool your Hot Flashes and bring smiles all around!
Each fan displays 6 different sayings - Red Hat Lady;
Hattitude;
Hot and Sexy;
Hot Flash;
Red Hatter; and
Bling it on!.
Uses 3 AAA batteries, included.