Georgia Historical Plate - Wesleyan College, Macon, Georgia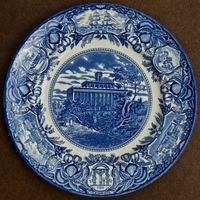 "Original building of Georgia Female College (now Wesleyan) Macon, Georgia, established 1836. First college in the world to bestow degrees upon women. Catherine Brewer received the first diploma in 1840."

Georgia Female College, founded in Macon by the Methodist Church in 1836, became Wesleyan Female College in 1843. The name change honored Methodism's founder, John Wesley. In 1917 the school's current name, Wesleyan College, was adopted. "Forever first for women's education — striving for excellence, grounded in faith, and engaged in service to the world" is the college's mission.
The entire design of each border around a different historical center is an informal arrangement of the flora of our state wherein one finds cotton, peaches, and Cherokee roses as well as the needles of her famous long-leaf pine.  The great seal of the state appears at the bottom with our altruistic motto: non sibi sed allis, entwined above.  The floral scroll is broken by five other insets of historic interest.  This stirring frame appears on every plate and surrounds the centers.

On February 19, 1974, Governor Jimmy Carter signed the General Assembly's resolution number 573 making the plates the official historical plates for the State of Georgia.