Georgia Historical Plate - Portraits of Georgia Patriots of Confederate and Following Era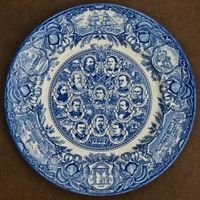 Joseph E. Brown, Robert Toombs, Clement A. Evans, Benjamin Hill, Howell Cobb, James Longstreet Joel C. Harris Sidney Lanier T.R.R. Cobb John B. Gordon Henry Grady Alexander H. Stephens.

Portraits of Great Georgians. Center portraits of the plates were chosen because these men represent Georgia in the Hall of Fame at the National Capitol in Washington.