Georgia Historical Plate - Capitol, Atlanta, Georgia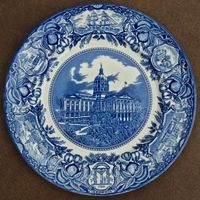 Atlanta became the temporary capital in 1867 and the permanent capital in 1877.

When the capital of Georgia was moved from Milledgeville to Atlanta, it occupied two temporary buildings until in September 1883 lawmakers appropriated $1 million for the construction of a new capitol. The original tin-covered dome was replaced by a gilding of Georgia gold from Dahlonega in 1958.