Georgia Historical Plate - Burning of the Yazoo Act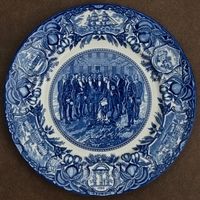 Gov. Jared Irwin signed the Rescinding Yazoo Act Feb. 13, 1796, and the Yazoo Fraud Papers were burned before the Capital, in Louisville Feb. 15th 1796.

The Yazoo land fraud of 1795 resulted when the young state of Georgia realized it was too weak after the Revolution to defend its western land claims.